04/01/2020 Important Message from District 89
April 1, 2020
Dear Parents, Students and Families of D89,
On Tuesday, March 31, Governor Pritzker extended the executive order requiring residents to "stay at home" through the end of April 30. As part of the Governor's order, he announced that schools will remain closed for on-site learning, with a new t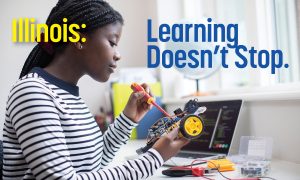 entative reopening date of May 1. We recognize that this development may raise questions about the impacts on students, staff, and families and the school's vital role of providing meals to students and families while schools are closed. We will be sending out a Frequently Asked Questions (FAQ) document early next week with additional information.
We are prepared to continue engaging our students in learning and providing the Grab & Go meals at all District 89 schools on a daily basis through Friday, April 3. In a continued effort to maintain the safety of the entire District 89 community we will be offering a bulk pick up of meals at each school only on Monday and Thursday. On Monday, April 6, families will pick up a box of 4 meals, and on Thursday, April 9, families will pick up 6 meals to cover Spring Break. Starting Friday, April 10th, all District 89 facilities will be closed for Spring Break. Grab & Go meal service will resume on Monday, April 20th from 10:00am to 12:00pm.
Hard copies of the e-Learning materials can be picked up during the Grab & Go hours and can be found on our website, www.maywood89.org/elearning/. These are great opportunities for our students to continue to engage in learning while school facilities are closed. Please reach out to our educators for support. Additionally, Thursday, April 9 and Monday, April 20 will be e-Learning planning days. We will allow staff to plan together remotely and give students a day to catch up instructionally. On e-Learning planning days teachers will not be available to answer questions. In addition, during Spring Break, we want our students and staff to relax and enjoy their time off, therefore we will not be assigning any new e-Learning activities that week.
As the situation develops, we will continue to provide families with updates. It is important that we continue to work together and support our students. As I have stated before, the challenges we continue to face are unprecedented but they are not insurmountable. We will continue to make it through the challenges as we come together as one #D89Community.
Sincerely,
Dr. David Negron
Superintendent